Harmful Impacts of Mining
The harmful impacts of mining remain a challenge for society to acknowledge and address. Sustainability reports tend to focus on how responsible companies are at creating positive contributions and managing ESG risks. And the term 'ESG risks' has become a euphemism for the potential harmful impacts of mining. In the context of the energy transition, industry actors now refer to 'green' mining, and mining as a 'future-enabling' industry. Yet harmful impacts of mining persist, and it is necessary to name the risks for what they are: harmful to people, environments and economies of producing countries when prevention fails.

Based on public domain information (see document library below), the report Harmful Impacts of Mining: when extraction harms people, environments and economies shows that harmful impacts are not inevitable, and yet they happen across the world, not only in jurisdictions with limited regulatory oversight. The report calls for the normalisation of prevention of harmful impacts across the industry.
Watch the replay of our webinar on Harmful impacts of mining (in English): With speakers from RMF, ICMM, IndustriALL Global Union, MiningWatch Canada, ICoCA, and Vedanta Resources.
Major impacts identified in the study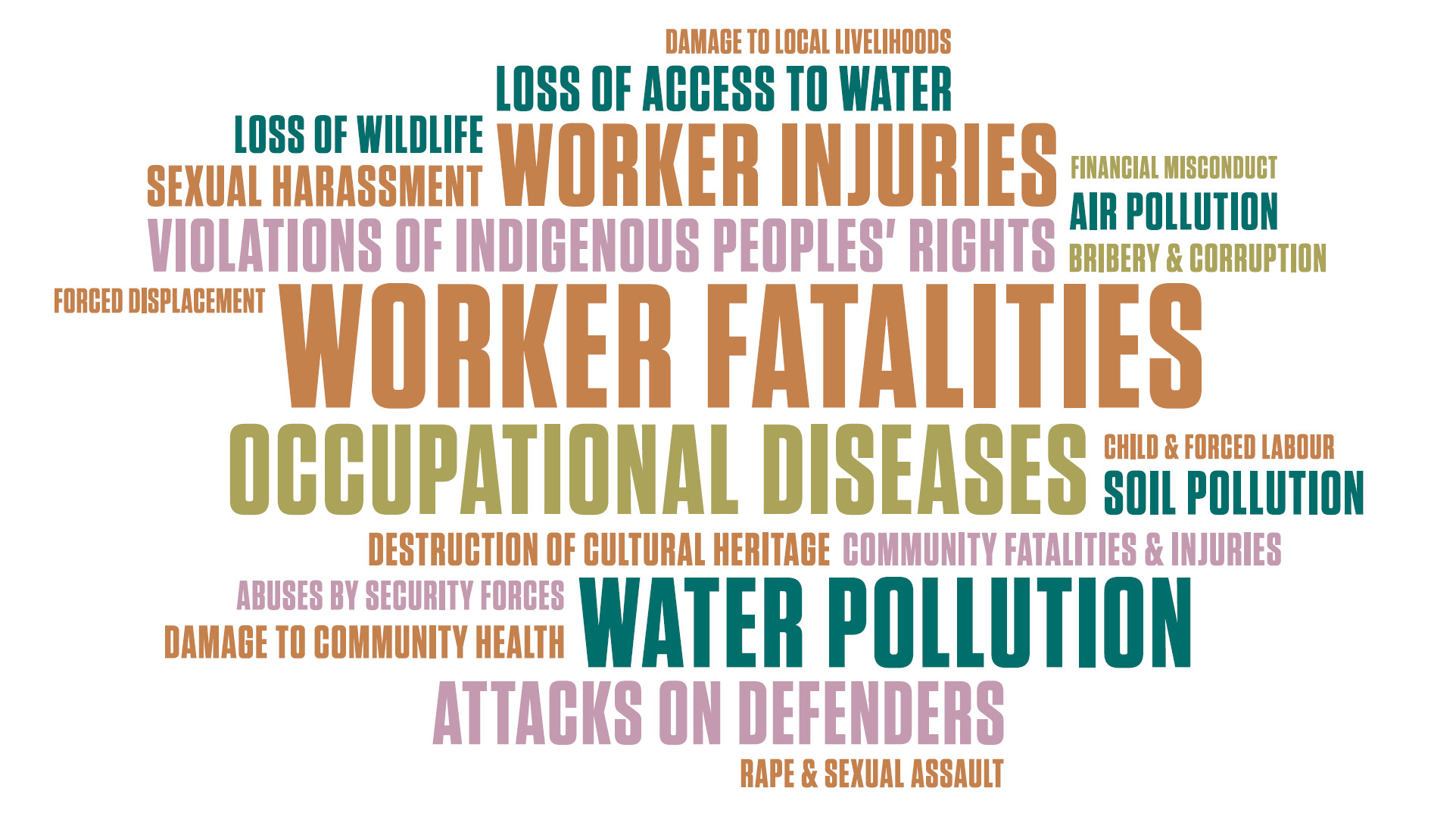 How to read this chart: The terms shown in the word cloud include only those impacts identified in the study and are therefore necessarily limited to cases reported as specific incidents. Other impacts, such as greenhouse gas emissions or gradual pollution from acid mine drainage, are not included as these are rarely reported as standalone incidents within a given timeframe.
Scope of the study
This report presents the results of RMF's recent study on harmful economic, environmental, social and governance (EESG) impacts associated with a sample of 38 large mining companies (i.e., those included in the RMI Report 2020). These companies together account for approximately 28 per cent of global mining production, collectively covering 18 home countries, 55 producing countries and about 1,000 mining sites worldwide.
Document Library
This searchable document library includes approximately 260 reports of incidents of harmful impacts, which have been identified during the study. Many of these reports cover multiple incidents. It is possible to search for a specific text in the titles, companies, and subjects using the field below. Each report summarises the data and lists the original sources of information (450+ items sourced from the public domain) which can be downloaded.
Incident
Relevant subjects
Companies
Countries
Documents
Death of 8 unauthorised gold miners at Norgold mine in Burkina Fasso after police fire tear gas
ASM miners
Nordgold
Burkina Faso

→

PDF

Investigation over bribery case in the deal for Simandou Mountains (Guinea)
Bribery and corruption
Rio Tinto, Vale

→

PDF

Launch of criminal probe in 2020 in Switzerland into Glencore over allegations of corruption in the Democratic Republic of Congo
Bribery and corruption
Glencore
DRC, Switzerland

→

PDF

Investigation launched by the UK Serious Fraud Office in 2019 into suspicions of bribery
Bribery and corruption
Glencore
DRC, UK

→

PDF

Congolese citizens demand compensation in January 2020 in UK corruption investigation
Bribery and corruption, Drinking water contamination, Damage to local livelihoods, Pollution (air, soil, water)
ERG
DRC

→

PDF

Legal claim in the UK in 2020 by victims of human rights violations at the North Mara mine in Tanzania
Community fatalities
Barrick Gold Corp

→

PDF

Reporting of 3 significant disputes with communities in 2019
Damage to local livelihoods
Teck

→

PDF

Reporting of 7 significant disputes relating to land use, customary rights of local communities and indigenous peoples in FY2020 (11 in FY2019)
Damage to local livelihoods, Habitat loss, Violations of Indigenous Peoples' rights
Glencore

→

PDF

Letter in August 2020 from Yukpa Indigenous People in Cesar, Colombia, asking commitments made in their favor to be implemented
Damage to local livelihoods, Loss of access to water, Violations of Indigenous Peoples' rights
Glencore
Colombia

→

PDF

Arsenic emissions above local norms at Glencore smelter in Rouyn-Noranda (Canada)
Damage to local livelihoods, Pollution (air, soil, water)
Glencore
Canada

→

PDF

San Martin Mining Unit spilled cyanide into river Sombrerete
Damage to local livelihoods, Pollution (air, soil, water)
Grupo México

→

PDF

Incursion of mining activities in a legal buffer zone
Drinking water contamination, Damage to local livelihoods
Rio Tinto

→

PDF

Ongoing litigation in 2019 at Onça Puma for non respect of environmental permit obligations
Drinking water contamination, Damage to local livelihoods
Vale

→

PDF

OECD complaint over Rio Tinto's Panguna mine (Bougainville) for ongoing environmental and human rights violations
Drinking water contamination, Damage to local livelihoods, Non-respect of mine closure commitments, Pollution (air, soil, water), Loss of access to water, Forced displacement
Rio Tinto

→

PDF

Complaints by 13 villages in 2019 against CBG over land grabbing, destruction of livelihoods and damages to the local environment
Drinking water contamination, Damage to local livelihoods, Pollution (air, soil, water), Forced displacement
Rio Tinto

→

PDF

Legal case related to mine spills 40,000 cubic meters of sulfuric acid into rivers in Sonora settled
Drinking water contamination, Damage to local livelihoods, Pollution (air, soil, water), Tailings-related incident
Grupo México

→

PDF

OECD Complaint filed against Glencore UK for Toxic Spill in Chad (September 2018 and July 2020)
Drinking water contamination, Damage to local livelihoods, Serious injuries of workers, Pollution (air, soil, water)
Glencore

→

PDF

Ongoing air and water pollution at Cerrejón worsened in 2019 in Covid context
Drinking water contamination, Pollution (air, soil, water)
Anglo American, BHP, Glencore

→

PDF

Grupo Mexico San Martin mine spilled mining waste in the river and environmental authorities confirmed
Drinking water contamination, Pollution (air, soil, water)
Grupo México

→

PDF

Tax demand from British authorities linked to transfer pricing
Financial misconduct
Glencore
UK

→

PDF

Arbitration in July 2019 by International Centre for Settlement of Investment Disputes over Reko Diq Mine
Financial misconduct
Antofagasta, Barrick Gold Corp

→

PDF

Barrick and Zijin dispute with Government of Papua New Guinea over Porgera mine license extension
Financial misconduct
Barrick Gold Corp, Zijin

→

PDF

Mopani Copper Mines fined in 2020 in Zambia over violations of Arm's Lengths Standards
Financial misconduct
Glencore

→

PDF

Possible misrepresentation of estimates for cost and completition data at Oyu Tolgoi
Financial misconduct
Rio Tinto

→

PDF

Re-negotiation with Mongolia's government over agreements over Oyu Tolgoi mine
Financial misconduct
Rio Tinto

→

PDF

Settlement in 2019 over iron ore royalties with Australia
Financial misconduct
BHP

→

PDF

Dispute with Colombia over royalties settled in 2019 by International Center for Settlement of Investment Disputes
Financial misconduct
Glencore
Colombia

→

PDF

Investigation into a 2011 uranium sale in Niger
Financial misconduct, Bribery and corruption
Orano

→

PDF

Lawsuit against Zijin's subsidiary Nevson Resources in Canada for human right violation, forced labour and violation of 3 refugees working at the Bisha Mining
Forced labour, Unsafe working conditions
Zijin

→

PDF

Environmental charge filed in 2020 against BHP's Escondida mine for exceeding water withdrawal limit
Loss of access to water
BHP
Chile

→

PDF

Settlement over silicosis litigation in South Africa approved in 2019
Occupational diseases
Gold Fields, Anglo American, AngloGold Ashanti, Sibanye-Stillwater

→

PDF

Reporting of 100 occupational disease cases in FY2020
Occupational diseases
RUSAL

→

PDF

Reporting of 11 additional employees with occupational disease in FY2020
Occupational diseases
China Shenhua

→

PDF

Reporting of 111 new occupational disease cases in FY2020
Occupational diseases
Glencore

→

PDF

Reporting of 1330 occupational disease cases for FY 2020
Occupational diseases
Sibanye-Stillwater

→

PDF

Reporting of 159 cases of occupational illness among contractors (FY2019: 166)
Occupational diseases
BHP

→

PDF

Reporting of 175 cases of occupational diseases in FY2020
Occupational diseases
Evraz

→

PDF

Reporting of 2 occupational diseases in FY2020
Occupational diseases
Polymetal

→

PDF

Reporting of 20 recordable illnesses (employees and contractors) in FY2020
Occupational diseases
Newmont

→

PDF

Reporting of 23 recordable cases of work-related ill health in FY2020
Occupational diseases
Grupo México

→

PDF

Reporting of 281 cases of occupational illness among employees (FY2019: 263)
Occupational diseases
BHP

→

PDF

Reporting of 30 new cases of occupational disease in FY 2020
Occupational diseases
Anglo American

→

PDF

Reporting of 30 occupational diseases cases in FY2020
Occupational diseases
Teck

→

PDF

Reporting of 32 occupational disease cases in FY 2020
Occupational diseases
Exxaro Resources

→

PDF

Reporting of 436 occupational diseases in FY 2020
Occupational diseases
Vale

→

PDF

Reporting of 48 incidents of professional and chronic-degenerative illnesses in FY2020
Occupational diseases
Industrias Peñoles

→

PDF

Reporting of new cases of occupational illness FY 2019 and 2020
Occupational diseases
Rio Tinto

→

PDF

Reporting of new occupational diseases cases in FY 2020 (6 new cases of silicosis; 24 new cases of occupational TB; 17 new cases of noise-induced hearing loss)
Occupational diseases
AngloGold Ashanti

→

PDF

Grupo Mexico reported 77 employees recordable cases of work-related ill health in FY 2019
Occupational diseases
Grupo México

→

PDF

Industrias Penoles reported 23 new occupational disease cases in FY 2019
Occupational diseases
Industrias Peñoles

→

PDF

Newmont reported 11 recordable illnesses in FY 2019
Occupational diseases
Newmont

→

PDF

Reporting of 4 occupational diseases in FY 2019
Occupational diseases
Antofagasta

→

PDF

Reporting of 106 new occupational disease cases in FY 2019
Occupational diseases
Glencore

→

PDF

Reporting of 113 occupational disease cases in FY 2019
Occupational diseases
RUSAL

→

PDF

Reporting of 19 occupational diseases cases in 2019
Occupational diseases
Teck

→

PDF

Reporting of 237 new occupational illnesses in FY 2019
Occupational diseases
Evraz

→

PDF

Reporting of 39 new cases of occupational disease in FY 2019
Occupational diseases
Anglo American

→

PDF

Reporting of 51 occupational disease cases in FY 2019
Occupational diseases
Exxaro Resources

→

PDF

Reporting of 54 new cases of occupational disease in FY 2019
Occupational diseases
China Shenhua

→

PDF

Reporting of new occupational diseases cases in FY 2019
Occupational diseases
AngloGold Ashanti

→

PDF

Reporting of number of occupational diseases in FY 2019
Occupational diseases
Polymetal

→

PDF

Reporting of occupational disease cases for FY 2019
Occupational diseases
Sibanye-Stillwater

→

PDF

Spill of sulfuric acid spill into sea by Grupo Mexico's Guyamas Facility in Gulf of California Mexico
Pollution (air, soil, water)
Grupo México

→

PDF

Chile's Environmental Court Ordered in 2019 Permanent Closure of Pascua Lama mine
Pollution (air, soil, water)
Barrick Gold Corp

→

PDF

Fine in 2021 for contaminating waterways in British Columbia (Canada)
Pollution (air, soil, water)
Teck

→

PDF

Legal Case against Vedanta Resources and its subsidiary Konkola Copper Mine over ongoing environmental pollution
Pollution (air, soil, water)
Vedanta Resources

→

PDF

Vale reported 74 significant fines for environmental non-compliance in FY 2019
Pollution (air, soil, water)
Vale

→

PDF

Company condemned for air pollution at Vanderb?lpark steel plant
Pollution (air, soil, water)
ArcelorMittal
South Africa

→

PDF

Complaint filed against the decision to allow Zijin to expand a copper mine in Serbia
Pollution (air, soil, water)
Zijin
Serbia

→

PDF

Dust emission at Sierrita mine in January 2020 under investigation
Pollution (air, soil, water)
Freeport-McMoRan
USA

→

PDF

Groundwater contamination in Thoothukudi
Pollution (air, soil, water)
Vedanta Resources

→

PDF

Ongoing health impacts to a community in Peru in 2020 after a mercury spill occurred 20 years ago
Pollution (air, soil, water)
Newmont, Buenaventura
Peru

→

PDF

Ongoing lead pollution in 2020 from a mine in Zambia closed in 1994
Pollution (air, soil, water)
Anglo American

→

PDF

Pollution cloud over the Caimanes Community territory in Chile in May 2020
Pollution (air, soil, water)
Antofagasta
Chile

→

PDF

Reporting of 5 environmental fines for FY20 (7 in FY19)
Pollution (air, soil, water)
Antofagasta

→

PDF

Reporting of 12 significant fines totaling US$30,568,895 in FY 2020
Pollution (air, soil, water)
Vale

→

PDF

Reporting of 178 Level 3 environmental incidents in FY2020 (FY2019: 179)
Pollution (air, soil, water)
First Quantum Minerals

→

PDF

Reporting of 19 Reportable spills or releases of hazardous or toxic chemicals for FY2020 (FY2019 33)
Pollution (air, soil, water)
Freeport-McMoRan

→

PDF

Reporting of 192 non-monetary sanctions in FY2020 and 293 in FY2019
Pollution (air, soil, water)
Glencore

→

PDF

Reporting of 2 significant spills and environmental incidents in FY2020
Pollution (air, soil, water)
Glencore

→

PDF

Reporting of 3 critical and 12 severe environmental incidents in FY2020
Pollution (air, soil, water)
Vale
Brazil, Canada, New Caledonia

→

PDF

Reporting of 3 environment related fines and one environment-related non-monetary administrative measure in FY2020
Pollution (air, soil, water)
MMG
Peru

→

PDF

Reporting of 3 environmental fines in FY2020
Pollution (air, soil, water)
Barrick Gold Corp

→

PDF

Reporting of 434 environmental releases in FY2020
Pollution (air, soil, water)
Newmont

→

PDF

Reporting of 5 level 3 environmental incidents in FY2020
Pollution (air, soil, water)
Sibanye-Stillwater
South Africa, USA

→

PDF

Reporting of 595 spills in FY 2020
Pollution (air, soil, water)
Barrick Gold Corp

→

PDF

Reporting of 6 reportable environmental incidents in FY2020
Pollution (air, soil, water)
AngloGold Ashanti
Brazil, Ghana, Guinea

→

PDF

Reporting of 7 notices of violation related to permit exceedances, spills, releases or other compliance matters in FY 2020 (5 in FY 2019)
Pollution (air, soil, water)
Freeport-McMoRan

→

PDF

Reporting of 8 level 3 environmental events and 1 level 4 environmental events
Pollution (air, soil, water)
Newmont
Canada, Mexico, Peru, USA

→

PDF

Reporting of amount of environmental fines (total) for FY2020 and FY2019
Pollution (air, soil, water)
Glencore

→

PDF

Reporting of environmental fines (total amount) in FY2020
Pollution (air, soil, water)
Polymetal

→

PDF

Reporting of environmental fines in FY 2020
Pollution (air, soil, water)
Newcrest Mining

→

PDF

Reporting of environmental fines in FY2020 (total amount)
Pollution (air, soil, water)
RUSAL

→

PDF

Reporting of Environmental Levies and Fines for Noncompliance for FY 2020 (total amount)
Pollution (air, soil, water)
Evraz

→

PDF

Reporting of environmental penalties in FY 2019 and FY 2010
Pollution (air, soil, water)
Freeport-McMoRan

→

PDF

Reporting of fines and prosecutions Environment for FY 2019 and 2020
Pollution (air, soil, water)
Rio Tinto

→

PDF

Reporting one Level 3 and no Levels 4 and 5 environmental incidents in FY20
Pollution (air, soil, water)
Anglo American

→

PDF

Serbian city Bor filed criminal complaint against Zijin over pollution from its copper smelter
Pollution (air, soil, water)
Zijin
Serbia

→

PDF

Anglogold Ashanti reported 3 environmental incidents in FY 2019
Pollution (air, soil, water)
AngloGold Ashanti
Guinea, South Africa

→

PDF

Environmental problems at Jiangxi Ganxian Hongjin Rare Earth Company
Pollution (air, soil, water)
MMG
China

→

PDF

Grupo Mexico's Amarillo copper refinery spilled 10 gallons of processed water in January 2019
Pollution (air, soil, water)
Grupo México
USA

→

PDF

Grupo Mexico's Amarillo copper refinery spilled 5,000 gallons of sulfuric acid in July 2019
Pollution (air, soil, water)
Grupo México
USA

→

PDF

Lack of access to clean water
Pollution (air, soil, water)
Zijin, Barrick Gold Corp

→

PDF

Newmont reported 650 environmental releases in FY 2019
Pollution (air, soil, water)
Newmont

→

PDF

Nordgold reported 31 environmental incidents in FY 2019
Pollution (air, soil, water)
Nordgold

→

PDF

Quebrada Blanca copper mine fined for environmental violations
Pollution (air, soil, water)
Teck
Chile

→

PDF

Report published in 2019 by the Comptroller and Auditor General of India highlighting cases of non-compliance with environmental safeguards by Coal India
Pollution (air, soil, water)
Coal India
India

→

PDF

Reporting of 1 environmental fine in FY 2019 for damaging a water body at Mezhegeyugol
Pollution (air, soil, water)
Evraz

→

PDF

Reporting of 1 moderate environmental incidents and 18 water-related fines in FY 2019
Pollution (air, soil, water)
Glencore

→

PDF

Reporting of 1 significant environmental fine in FY2019
Pollution (air, soil, water)
Grupo México

→

PDF

Reporting of 15 spills in FY 2019
Pollution (air, soil, water)
Grupo México
USA

→

PDF

Reporting of 5 environmental incidents in FY 2019
Pollution (air, soil, water)
Sibanye-Stillwater

→

PDF

Reporting of 5 environmental related fined and 1 non-compliance environmental-related sanction in FY2020 (6 fines in FY 2019)
Pollution (air, soil, water)
Newmont

→

PDF

Reporting of charges, fines and penalties related to environmental performance in FY 2019
Pollution (air, soil, water)
Teck

→

PDF

Reporting of environmental fines in FY 2019 and FY 2020
Pollution (air, soil, water)
CODELCO

→

PDF

Reporting of environmental-related administrative fines at Minas-Rio in FY 2019
Pollution (air, soil, water)
Anglo American
Brazil

→

PDF

Reporting of number and value of environmental fines
Pollution (air, soil, water)
Gold Fields

→

PDF

Reporting of one Level 3 and no Levels 4 and 5 environmental incidents in FY 2019
Pollution (air, soil, water)
Anglo American
Zimbabwe

→

PDF

Reporting of regional environment fines for FY 2019 and 2020
Pollution (air, soil, water)
BHP

→

PDF

Reporting of USD 5 thousands environmental fines in 2019
Pollution (air, soil, water)
RUSAL

→

PDF

Charges against Codelco in 2020 over a 2016 tailings spill and water contamination at its Andina mine
Pollution (air, soil, water), Tailings-related incident
CODELCO

→

PDF

Barrick Gold's subsidiary Acacia fined in 2019 for alleged pollution from North Mara's tailings dam
Pollution (air, soil, water), Tailings-related incident
Barrick Gold Corp

→

PDF

Reporting of 2 environmental incidents of spill in FY 2019
Pollution (air, soil, water), Tailings-related incident
CODELCO

→

PDF

2 Fines for 2 labour and 12 environmental non-compliance cases in FY 2019
Pollution (air, soil, water), Unsafe working conditions
Polymetal

→

PDF

Gas Emission at the Nchanga mine caused hospitalization of 200 children and 53 workers
Pollution (air, soil, water), Unsafe working conditions
Vedanta Resources

→

PDF

MMG reported 1 environment-related and 3 safety-related fines at its Las Bambas operation, 1 monetary and 4 non-monetary sanctions related to environmental incidents in FY 2019
Pollution (air, soil, water), Unsafe working conditions
MMG
Peru

→

PDF

29 reports of sexual harassment and one sexual assault case since January 2020
Rape, sexual assault and harassment, Violation of workers' rights
Rio Tinto

→

PDF

Sexual Assaults and Harassments at Western Australian Mines
Rape, sexual assault and harassment, Violation of workers' rights
BHP, Rio Tinto, Fortescue

→

PDF

Reporting of 107 recordable injuries in FY2020
Serious injuries of community members
Gold Fields

→

PDF

Reporting of 35 injuries of the community members in relation with security intervention in FY2020
Serious injuries of community members
[RMI-2018] AngloGold Ashanti

→

PDF

Reporting of 8 injuries of security personnel in the line of duty in FY 2020
Serious injuries of community members
[RMI-2018] AngloGold Ashanti

→

PDF

8 injuries during a protest
Serious injuries of community members
MMG
Peru

→

PDF

Anglogold Ashanti reported 49 injuries of the community members in relation with security intervention in FY 2019
Serious injuries of community members
AngloGold Ashanti

→

PDF

Fatalities and injuries of Protesters against Vedanta Refinery
Serious injuries of community members, Community fatalities
Vedanta Resources

→

PDF

Complaint in 2019 over abuses by security forces during protest in 2018 at a mine site in Guinea
Serious injuries of community members, Rape, sexual assault and harassment
AngloGold Ashanti

→

PDF

Ongoing issues concerning Indigenous community Fuerabamba protest against Las Bambas over land dispute and compensation resulted rights defenders' arrest and injuries
Serious injuries of community members, Severe threats, Attacks on human and land rights defenders, Violations of Indigenous Peoples' rights, Forced displacement
MMG

→

PDF

Two workers injured and two missing after mudslide in April 2019 at Grasberg mine
Serious injuries of workers
Freeport-McMoRan
Indonesia

→

PDF

MMG reported 30 workplace injuries in FY2020 (42 in FY 2019)
Serious injuries of workers
MMG

→

PDF

Reporting of 149 work related injuries in FY 2020 (76 in FY 2019)
Serious injuries of workers
China Shenhua

→

PDF

Reporting of 13 injuries including 2 severe injuries (contractors: 10 injuries) in FY2020
Serious injuries of workers
Polymetal

→

PDF

Reporting of 13 serious injuries in FY2020
Serious injuries of workers
Gold Fields

→

PDF

Reporting of 134 temporary incapacitating injuries (employees and contractors) in FY 2020
Serious injuries of workers
Grupo México

→

PDF

Reporting of 18 high-consequence work-related injuries for employees and of 7 for contractors (FY2019: 22 for employees and 9 for contractors)
Serious injuries of workers
RUSAL

→

PDF

Reporting of 201 recordable injuries in FY 2020
Serious injuries of workers
Banpu

→

PDF

Reporting of 277 lost-time injuries for FY2020 (FY2019: 325)
Serious injuries of workers
Anglo American

→

PDF

Reporting of 35 Lost day injuries (employees + contractors) in FY2020
Serious injuries of workers
Newmont

→

PDF

Reporting of 458 number of serious injuries in FY2020
Serious injuries of workers
Sibanye-Stillwater

→

PDF

Reporting of 85 lost-Time injuries in FY2020 (90 in FY2019)
Serious injuries of workers
Teck

→

PDF

Reporting of 88 serious injuries in FY 2020 (FY2019: 90)
Serious injuries of workers
Coal India

→

PDF

Reporting of 9 Lost-time injuries in FY 2020 (26 in FY 2021)
Serious injuries of workers
Exxaro Resources

→

PDF

Reporting of 95 lost-time injuries in FY2020 (107 in FY2019)
Serious injuries of workers
CODELCO

→

PDF

Reporting of high potential injuries for FY 2020
Serious injuries of workers
BHP

→

PDF

Reporting of number of lost time injuries for FY 2019 and 2020
Serious injuries of workers
Rio Tinto

→

PDF

Arcelor Mittal reported number of work related injuries in FY 2019
Serious injuries of workers
ArcelorMittal

→

PDF

Banpu reported 214 recordable injuries in FY 2019
Serious injuries of workers
Banpu

→

PDF

Gold Fields reported 104 recordable injuries in FY 2019
Serious injuries of workers
Gold Fields

→

PDF

Gold Fields reported 12 serious injuries in FY 2019
Serious injuries of workers
Gold Fields

→

PDF

Grupo Mexico reported 162 employees and 89 contractors temporary incapacitating injuries in FY 2019
Serious injuries of workers
Grupo México

→

PDF

Newmont reporting of Restricted work and Lost time Injuries in FY 2019
Serious injuries of workers
Newmont

→

PDF

Reporting of 102 Lost-time injuries in FY 2019 (employees and contractors)
Serious injuries of workers
ERG

→

PDF

Reporting of 25 injuries of security personnel in the line of duty in FY 2019
Serious injuries of workers
AngloGold Ashanti

→

PDF

Reporting of 25 workers with severe injuries in FY2019
Serious injuries of workers
Navoi MMC

→

PDF

Reporting of 27 lost time injuries in FY 2019
Serious injuries of workers
Nordgold
Burkina Faso, Kazakhstan, Russian Federation

→

PDF

Reporting of 3 employees permanent incapacity injuries in FY 2019
Serious injuries of workers
Grupo México

→

PDF

Reporting of 37 lost time injuries in FY2020 (FY2019: 49)
Serious injuries of workers
Barrick Gold Corp

→

PDF

Reporting of 50 high potential injury event in FY 2019
Serious injuries of workers
BHP

→

PDF

Reporting of 508 serious injuries in FY 2019
Serious injuries of workers
Sibanye-Stillwater

→

PDF

Reporting of injuries and severe injuries in FY 2019
Serious injuries of workers
Polymetal

→

PDF

Reporting of total injuries for FY 2019-20
Serious injuries of workers
Vedanta Resources

→

PDF

Reporting of total injuries in FY 2018-19
Serious injuries of workers
Vedanta Resources

→

PDF

Reporting of 27 Injuries to community members engaged in illegal activity (not security related) in FY2020
Serious injuries of workers, ASM miners
AngloGold Ashanti

→

PDF

Anglogold Ashanti reported 20 injuries to community members engaged in illegal activities in FY 2019
Serious injuries of workers, ASM miners
AngloGold Ashanti

→

PDF

Fatalities and injuries in 2019 at the Porgera mine due to clash between illegal miners and police security providers of Porgera
Serious injuries of workers, Serious injuries of community members, Community fatalities, ASM miners
Barrick Gold Corp, Zijin

→

PDF

Death threats in 2019 against human rights defenders, trade unionists and journalists
Severe threats
Anglo American, BHP, Glencore

→

PDF

Report over attacks against Human Rights Defenders in Colombia between January 2015 and October 2019
Severe threats, Community fatalities, Attacks on human and land rights defenders
AngloGold Ashanti

→

PDF

The legal case against 19 indigenous community members for the 2015 protest against Las Bambas mine and clash with police
Severe threats, Community fatalities, Violations of Indigenous Peoples' rights
MMG

→

PDF

Threats against Chaupe Family and legal action in US
Severe threats, Violations of Indigenous Peoples' rights
Newmont

→

PDF

Investigation launched in 2020 into Covid-19 cases at Antamina
Unsafe working conditions
Glencore, BHP, Teck

→

PDF

Regional safety fines levied in FY 2020
Unsafe working conditions
BHP

→

PDF

Reporting of one safety-related fines in FY2020
Unsafe working conditions
MMG
Peru

→

PDF

Reporting of regional safety fines for FY 2019
Unsafe working conditions
Fortescue

→

PDF

31 reports of sexual harassment since January 2020 (2020: 11; 2021: 20)
Violation of workers' rights
Fortescue

→

PDF

48 workers removed from their posts following 73 reports of sexual harassment at BHP
Violation of workers' rights
BHP

→

PDF

Reporting of 15 sexual harassment cases opened and closed in FY2019-2020
Violation of workers' rights
Vedanta Resources

→

PDF

Blast of 46,000 year old Aboriginal site
Violations of Indigenous Peoples' rights
Rio Tinto

→

PDF

Exclusive native title rights to land of Yindjibarndi people recognized by Australian court in 2020
Violations of Indigenous Peoples' rights
Fortescue
Australia

→

PDF

Reporting of 1 level 3 significant social event in FY2020
Violations of Indigenous Peoples' rights
Newmont
Ghana

→

PDF

Reporting of 1 significant dispute with communities in FY2020
Violations of Indigenous Peoples' rights
Teck
Canada

→

PDF

Reporting of instances of adverse impacts involving the rights of Indigenous peoples in 2020
Violations of Indigenous Peoples' rights
Rio Tinto

→

PDF

Two deaths at Zijin Mining Construction Co., Ltd.
Worker fatalities
Zijin
China

→

PDF

Worker killed at El Teniente mine in June 2019
Worker fatalities
CODELCO

→

PDF

Accident at a construction project of Shengli Power Plant in July 2020
Worker fatalities
China Shenhua
China

→

PDF

Accident at construction project of Shengli Power Plant in April 2020
Worker fatalities
China Shenhua
China

→

PDF

Accident at Cuncaota Coal Mine in August 2020
Worker fatalities
China Shenhua
China

→

PDF

Accident at Heidaigou open pit mine in May 2020
Worker fatalities
China Shenhua
China

→

PDF

Accident at Radomiro Tomic Mine in June 2020
Worker fatalities
CODELCO

→

PDF

Accident caused 3 fatalities at Jinzhong Zijin Coal Industry
Worker fatalities
Zijin
China

→

PDF

Newcrest Mining reported 1 community fatality at the Lihir mine due to transport bus accident returning to mine site in FY 2020
Worker fatalities
Newcrest Mining
Papua New Guinea

→

PDF

Reporting of 1 fatalities in FY2020
Worker fatalities
Orano
Niger

→

PDF

Reporting of 1 fatality (1 contractor) in FY2020
Worker fatalities
Nordgold
Kazakhstan

→

PDF

Reporting of 1 fatality (contractor) in FY2020
Worker fatalities
Bumi Resources

→

PDF

Reporting of 1 fatality (employee) in FY2020
Worker fatalities
China Shenhua

→

PDF

Reporting of 1 fatality in FY2020
Worker fatalities
Barrick Gold Corp

→

PDF

Reporting of 1 fatality in FY2020
Worker fatalities
Gold Fields

→

PDF

Reporting of 12 fatalities to community members engaged in illegal activity (not security related) in FY2020
Worker fatalities
AngloGold Ashanti

→

PDF

Reporting of 2 fatalities among contractors in FY2020
Worker fatalities
Zijin
Serbia

→

PDF

Reporting of 2 work-related fatalities and 2 fatalities at independently managed joint operations in FY2020
Worker fatalities
Anglo American

→

PDF

Reporting of 3 community-related fatalities in FY2020
Worker fatalities
MMG
DRC

→

PDF

Reporting of 3 fatalities in FY 2020 (9 in FY 2019)
Worker fatalities
ArcelorMittal

→

PDF

Reporting of 30 fatalities in FY2020
Worker fatalities
Coal India

→

PDF

Reporting of 4 fatalities in FY2020
Worker fatalities
Vale
Brazil, Mozambique

→

PDF

Reporting of 5 fatalities in FY2020
Worker fatalities
Evraz

→

PDF

Reporting of 5 fatalities in FY2020 (3 in FY2019)
Worker fatalities
Freeport-McMoRan

→

PDF

Reporting of 6 fatalities in FY2020
Worker fatalities
AngloGold Ashanti

→

PDF

Reporting of 7 fatalities (2 employees and 5 contractors) in FY2020
Worker fatalities
RUSAL

→

PDF

Reporting of 7 fatalities in FY2020
Worker fatalities
Industrias Peñoles

→

PDF

Reporting of 8 fatalities (6 employees and 2 contractors) in FY2020
Worker fatalities
Glencore

→

PDF

Reporting of 9 fatalities in FY2020
Worker fatalities
Sibanye-Stillwater

→

PDF

Reporting of seven fatalities in FY 2019 – 2020
Worker fatalities
Vedanta Resources

→

PDF

Safety accident resulted 1 fatality in Zijin mining not reported
Worker fatalities
Zijin
China

→

PDF

1 fatal accident in 2019 at the Indiana Harbor Steel plant railroad
Worker fatalities
ArcelorMittal
USA

→

PDF

3 fatalities at Zijinshan Gold and Copper Mine in China
Worker fatalities
Zijin
China

→

PDF

Accident at Guojiawan Power Plant of Shenhua Shendong Electric Power Co. in May 2019
Worker fatalities
China Shenhua
China

→

PDF

Accident in Wuhai coal mine in January 2019
Worker fatalities
China Shenhua
China

→

PDF

Anglogold Ashanti reported 4 fatalities of the employees in March 2020
Worker fatalities
AngloGold Ashanti
South Africa

→

PDF

Barrick disclosed in FY 2019 2 non-occupational fatalities happened at the Nevada Gold mine in the US
Worker fatalities
Barrick Gold Corp
USA

→

PDF

Death of a contractor at Nanyangtian tungsten mine
Worker fatalities
Zijin
China

→

PDF

Fine in 2019 over fatality in Obuasi mine site, Ghana, in 2015
Worker fatalities
AngloGold Ashanti

→

PDF

Gold Fields reported 1 fatality in FY 2019
Worker fatalities
Gold Fields
South Africa

→

PDF

Grupo Mexico reported 4 fatalities of employees and contractors in FY 2019
Worker fatalities
Grupo México

→

PDF

Industrias Penoles' major subsidiary Fresnillo reported 2 fatalities in FY 2019
Worker fatalities
Industrias Peñoles

→

PDF

Industrias Penoles reported 1 fatalities at the Sabinas mine FY 2019
Worker fatalities
Industrias Peñoles
Mexico

→

PDF

Industrias Penoles reported 1 fatality at the refinery in Coahuila
Worker fatalities
Industrias Peñoles

→

PDF

MMG reported one contractor fatality in FY 2019
Worker fatalities
MMG
Peru

→

PDF

Nordgold reported 5 fatalities in FY 2019
Worker fatalities
Nordgold
Burkina Faso

→

PDF

Reported 1 fatality at a Middlemount Mine joint-venture in FY 2019
Worker fatalities
Peabody Energy

→

PDF

Reporting of 1 fatality in FY2019
Worker fatalities
BHP

→

PDF

Reporting of 11 fatalities in FY 2019
Worker fatalities
ERG

→

PDF

Reporting of 14 fatalities in FY 2018 – 2019
Worker fatalities
Vedanta Resources

→

PDF

Reporting of 16 fatalities in FY 2019
Worker fatalities
Evraz

→

PDF

Reporting of 17 fatalities in FY 2019
Worker fatalities
Glencore

→

PDF

Reporting of 2 contractors' fatalities in FY 2019
Worker fatalities
China Shenhua

→

PDF

Reporting of 2 fatalities in FY 2019
Worker fatalities
Buenaventura
Peru

→

PDF

Reporting of 34 fatalities in FY 2019
Worker fatalities
Coal India
India

→

PDF

Reporting of 6 fatalities in FY 2019
Worker fatalities
Sibanye-Stillwater

→

PDF

Reporting of 7 fatalities in FY 2019
Worker fatalities
RUSAL

→

PDF

Reporting of 8 fatalities in FY2019
Worker fatalities
Navoi MMC

→

PDF

Reporting of one fatality in FY 2019
Worker fatalities
Teck

→

PDF

Reporting of two employee and one contractor fatalities in FY 2019
Worker fatalities
Polymetal

→

PDF

Anglogold Ashanti reported 25 community fatalities engaged in illegal mining activity in FY 2019
Worker fatalities, ASM miners
AngloGold Ashanti

→

PDF

Death of 30 ASM miners in June 2019 from landslide at Kamoto Copper mine (DRC)
Worker fatalities, ASM miners
Glencore

→

PDF

Allegations in 2019 of child labor at cobalt mines in Democratic Republic of the Congo
Worker fatalities, Child labour, ASM miners
Glencore

→

PDF

Report in 2020 over negative impacts at Porco mine
Worker fatalities, Child labour, Drinking water contamination, Damage to local livelihoods, Serious injuries of workers, Pollution (air, soil, water), Unsafe working conditions, ASM miners
Glencore

→

PDF

Union leaders and members strike at the gold operations resulted fatalities, injuries and house fires
Worker fatalities, Damage to local livelihoods, Serious injuries of community members, Community fatalities
Sibanye-Stillwater
South Africa

→

PDF

Failure of tailings dam caused 248 fatalities and 22 missing in 2019 in Brumadinho (Brazil)
Worker fatalities, Damage to local livelihoods, Serious injuries of workers, Pollution (air, soil, water), Tailings-related incident
Vale

→

PDF

Damages to be paid in 2020 to the family of a deceased person in Zambia in relation to toxic Sulphur dioxide fumes
Worker fatalities, Pollution (air, soil, water)
Glencore

→

PDF

Ongoing legal proceedings related to the rupture of Samarco's tailings dam in 2015
Worker fatalities, Pollution (air, soil, water), Tailings-related incident
Vale, BHP

→

PDF

Gun fire against Protesters – 13 fatalities, 118 injuries, 43 severe injuries and 9 permanent disability
Worker fatalities, Serious injuries of community members
Vedanta Resources

→

PDF

Accident at Haibowan Mining in August 2019
Worker fatalities, Serious injuries of workers
China Shenhua

→

PDF

Reporting of 4 work-related and 14 non work-related fatal injuries in FY 2019
Worker fatalities, Serious injuries of workers
Anglo American

→

PDF

21 fatalities in 2019 when a truck transporting sulphuric acid to the Mutanda Mine (RDC) spilled its content
Worker fatalities, Serious injuries of workers
Glencore

→

PDF

No document matches your search
Other resources
→ Conflict Prevention Tool (2021)
by CIDP-Queen's University, ICRC, DCAF, and AngloGold Ashanti